WAVES Charity Shoot – How Much Longer Will Great Events Like This Be Possible in California?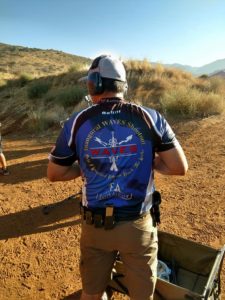 The following is a description of the WAVES Project taken directly from the WAVES Project website:
"The WAVES Project is a 501 c (3) Non-Profit and has been established to provide an opportunity for American Veterans with service connected disabilities and their families to experience scuba diving. Each veteran and a dive companion of their choice can experience the freedom of scuba diving for free.  We take each candidate and their dive buddy through open water certification.  From classroom to open water dives, you will experience the many benefits to scuba…regardless of your injury.  We work with all levels of the military from brain trauma, double and triple amputees to PTSD." 
I recently participated in the second annual Waves Project Charity Match hosted by Linea de Fuego (LDF), a United States Practical Shooting Association (USPSA) affiliated section. The event took place at the North County Shootist Association range in Pala, Ca. and was an eight stage USPSA Handgun Level 1 match conducted as a fundraiser for the WAVES Project.
The WAVES Project provides a tremendous service for disabled veterans. The Charity Match provides a way for those of us in the gun owning community to contribute to this effort and have a lot of fun in the process. Last year's Charity Match raised over $10,000 dollars for the WAVES Project. This year the event drew 145 shooters and will hopefully raise even more. In addition to the fun of shooting the match, the event included a catered BBQ and a raffle featuring items donated by the numerous sponsors of the event. Rifles, shotguns, handguns and various accessories were among the raffle items donated by the sponsors.
Members of Linea de Fuego volunteered their time to organize and conduct the match. LDF members designed and set up the eight stages and acted as RO's to ensure that everyone had a fun and safe match experience. LDF members also managed the registration of all participants.
If you've never shot a USPSA match you're missing out on one of the true pleasures of gun ownership. The matches run by LDF on the second and fourth Saturday of each month are a great excuse to get out and shoot your gun regularly. All you need to get started is a handgun, belt, holster and at least three magazines / pouches. Shooters of all ages and skill levels from beginners to Grand Masters participate in the matches. LDF members are very welcoming of new shooters and everyone is friendly and willing to help out. If you're a gun owner you owe it to yourself to visit the LDF website and come to the range to check out a match, you won't be disappointed.
Now for the more serious part of the article. Events like the WAVES match and USPSA matches in general are threatened by anti second amendment forces in California. It is not unreasonable to believe that ten years from now activities like these will no longer be possible in our state. The growing number of new gun laws that have nothing to do with reducing crime or improving public safety make it increasingly difficult for law-abiding citizens to own and enjoy firearms.
The California Handgun Roster steadily reduces the number of handguns available for sale in the state. New laws regulating the sale of ammunition will make it more difficult for people to buy ammunition and for stores to sell ammunition.
The long-term effect will be that we'll have fewer stores in which to buy guns and ammunition and fewer ranges available for shooting. Driving firearms related businesses out of business is the goal of anti 2A people. The end result will be that we'll still have our second amendment rights but they will be meaningless. Everyone loses.
The good news is that this result doesn't need to happen. There are more than enough gun owners in California to reverse the current anti 2A trend. We are already making progress in San Diego County. Gun owners just need to take an interest and let elected officials know how they feel.
Please get involved by joining San Diego County Gun Owners, the California Rifle and Pistol Association, and the National Rifle Association. Join the fight and help us restore and preserve our second amendment rights. Together we will win.
©2017 Joseph T Drammissi
Comments