Second Amendment Celebration Dinner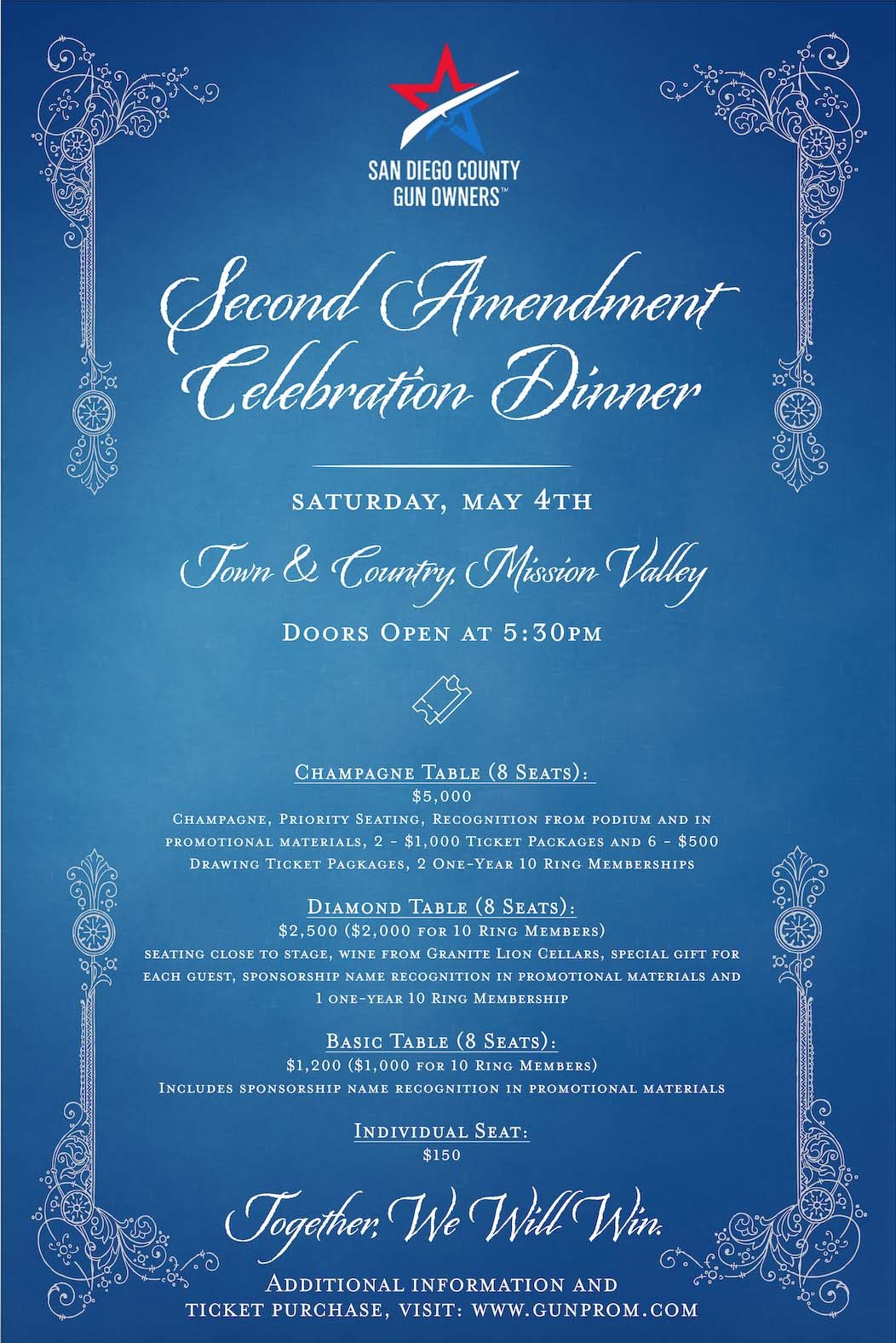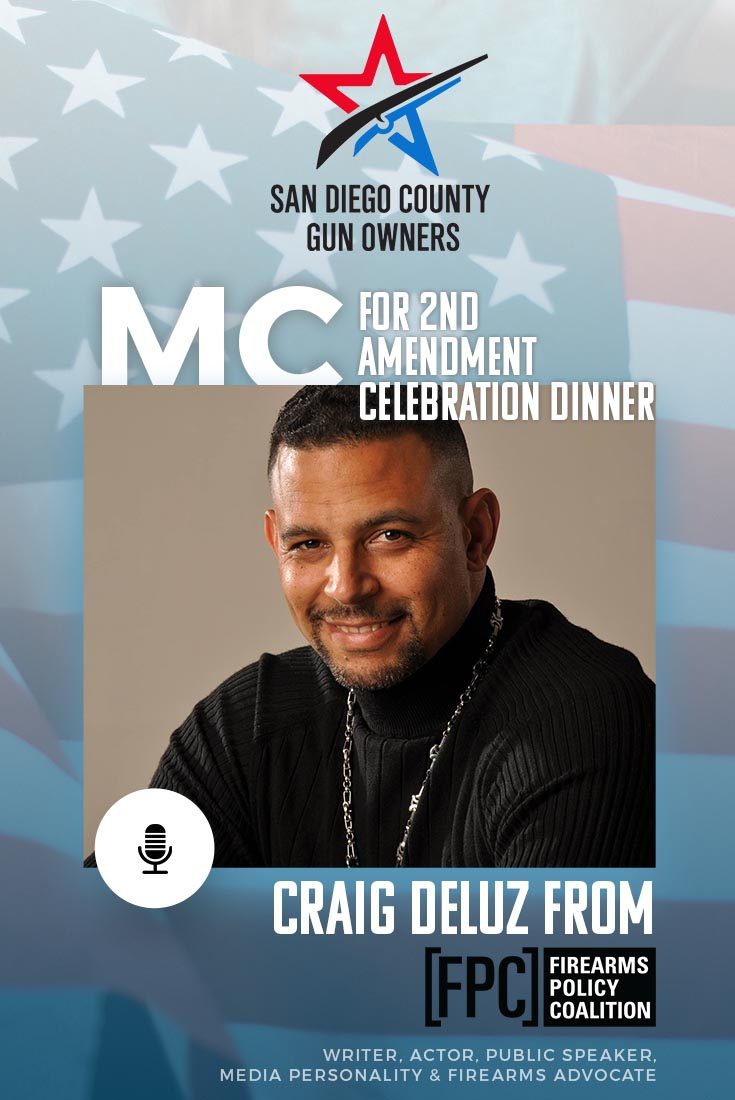 Champagne Sponsors:
Dustin Trotter for Santee City Council
Gun Sports Radio
Glockstore (two tables!)
Table Sponsors:
TUFF Products
Law Offices of J.P. Miller, Jr (3 tables!)
Primary Residential Mortgage/Chris Wiley
Joe Drammissi
Richard Bailey Coronado Mayor
Kali Key
Linda Kullmann
Senator Brian Jones
HearthStone | Private Wealth Management - Paul Hynes
The Gun Range San Diego
Beebe Family Arms & Munitions (2 tables!)
Gatzke Dillon & Ballance LLP
Active Valor
Urban Systems Assoc
A Girl And A Gun
TDT Construction
Orange County Gun Owners
Integrity Sport Horse
North County Shooting Center
Active Shooter Defense School
Wright, L'Estrange, & Ergastolo, Lawyers
Brian Maryott for Congress
U.S. Law Shield
AO Sword
Lil Joe Posse
Cross Armory
Discount Gun Mart
Coldwell Banker Royal Realty (Scott Vinson)
Armed Equality
Assembly Republican Leader Marie Waldron
SEAL 1
The Shooters Hangout
RDL Tactical
Joe Leventhal
Triple B
Reform California
Frequently Asked Questions
Field Greens Topped with Heirloom Tomatoes, English Cucumbers, Shaved Carrots & Feta Cheese
Fine Herb & Balsamic Vinaigrette Dressings
Your choice of:
Free Range Chicken Breast with Swiss Chard, Pumpkin seeds, Maple Brown Butter, Whipped Potatoes, and Baby Root Vegetables
New York Strip Loin, Bordelaise, Whipped Potatoes, Baby Root Vegetables
Fresh Filet of Salmon, Lemon Beurre Blanc, Whipped Potatoes, Baby Root Vegetables
Portabella Wellington, With Grilled Vegetables and Pomodoro Sauce
Hazelnut Dark Chocolate Mousse Cake
Complimentary Artesian Rolls & Butter, Freshly Brewed Coffee, Decaffeinated Coffee, or Tea
Parking is free and on the Town and Country property.
Check or credit card only, please. We will have multiple people helping at the dinner to make it easy! Please DO NOT BRING CASH. Credit card and check only. We cannot take cash at this event. Please only bring credit card and/or check.
For men, a tie is not necessary, but not out of place. Jacket preferred. Tuxedo is too much. For women, not too formal. Not too casual. A cocktail dress or equivalent is perfect.
In addition to the bottles of wine at each table, we will have multiple bars that will serve soft and hard beverages. Water, coffee, and tea will be available for all. Cash taken at the bars, but a reminder to only bring credit card or check for the auctions, drawings, and silent auctions.
Paid for by San Diego County Gun Owners Political Action Committee | P.O. Box 124667, San Diego CA 92112 | FPPC ID # 1379388