Second Amendment Celebration Dinner
CLICK HERE TO BUY YOUR TICKETS OR TABLE TODAY!
Individual Ticket Early Bird Special: $99
Basic Table (10 Seats)  Early Bird Special: $990
Wine Table (8 Seats) Early Bird Special: $1,600
Champagne Table (8 Seats) Early Bird Special: $3,000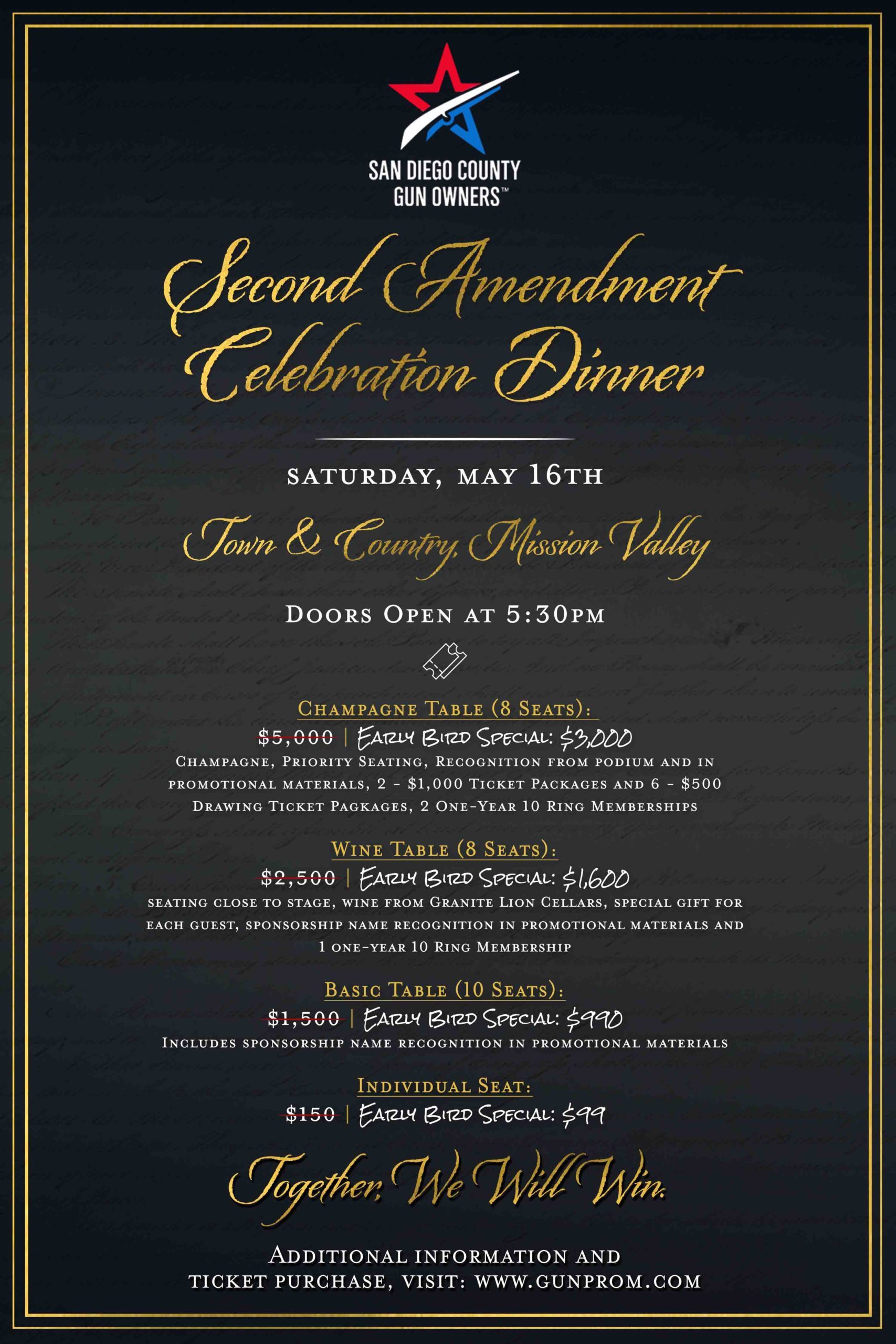 Champagne Sponsors:
Glockstore! (A Double Champagne Sponsor!!!)
Dustin Trotter for Santee City Council!
Gun Sports Radio!
Poway Weapons and Gear!
Table Sponsors:
Beebe's Family Arms in Fallbrook! (Two Tables!)
Defensive Tactics and Firearms
A Gatzke Dillon and Ballance LLP
Armed Equality!
TUFF Products
Active Valor
Law Offices of J.P. Miller, Jr. (Three Tables!)
Urban Systems Associates
A Girl And A Gun
TDT Construction
Orange County Gun Owners
Integrity Sport Horse
Primary Residential Mortgage/Chris Wiley
Joe Drammissi (2 Tables!)
North County Shooting Center
Active Shooter Defense School
Wright, L'Estrange, & Ergastolo, Lawyers
Brian Maryott for Congress
U.S. Law Shield
SEAL 1
Richard Bailey Coronado Mayor
The Shooters Hangout
Kali Key
Linda Kullmann (Two Tables!)
Senator Brian Jones
HearthStone | Private Wealth Management - Paul Hynes
The Gun Range San Diego
AO Sword
Lil Joe Posse
RDL Tactical
Joe Leventhal
Cross Armory
Discount Gun Mart
Triple B Adventures
Coldwell Banker Royal Realty/Scott Vinson
Mike Diaz, Chula Vista City Council
Assembly Republican Leader Marie Waldron
Gunfighter Tactical (Two tables!)
Congressman Duncan Hunter
Joel Anderson for County Supervisor
Rand Engineering
Orange County Gun Owners
North County Shooting Center
Reform California
Black Cat Firearms
Steve Vaus for County Supervisor
CCA Cal
San Diego Guns
Trident Gunsmithing
Gun Prom Attendees!
May 16th, 5:30PM at Town & Country in Mission Valley at

500 Hotel Cir N, San Diego, CA 92108

Remember, you must buy tickets to the dinner in advance!  No tickets will be sold at the door.
Please bring credit cards or a check to participate in the auctions, etc.  NO CASH is accepted.
Parking is free!  Park in the lot on the north side of Town & Country or underground.
Your name badge with your table number will be waiting for you at the door.
Doors open at 5:30PM.  Please arrive between 5:30PM and 6:15PM
Check out FAQs below for more answers!
Frequently Asked Questions
Parking is free and on the Town and Country property.
Check or credit card only, please. We will have multiple people helping at the dinner to make it easy! Please DO NOT BRING CASH. Credit card and check only. We cannot take cash at this event. Please only bring credit card and/or check.
For men, a tie is not necessary, but not out of place. Jacket preferred. Tuxedo is too much. For women, not too formal. Not too casual. A cocktail dress or equivalent is perfect.
In addition to the bottles of wine at each table, we will have multiple bars that will serve soft and hard beverages. Water, coffee, and tea will be available for all. Cash taken at the bars, but a reminder to only bring credit card or check for the auctions, drawings, and silent auctions.
Paid for by San Diego County Gun Owners Political Action Committee | 5694 Mission Center Rd. #602-876, San Diego CA 92108 | FPPC ID # 1379388