Luby's – A Real Life Argument Against Sheriff Gore's Dangerous CCW Policy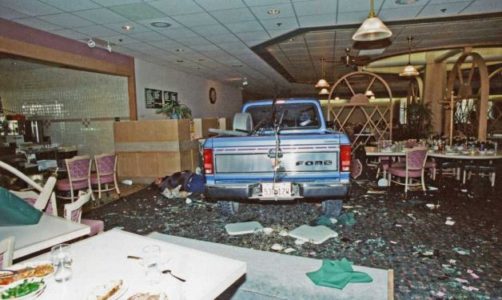 Luby's Massacre Truck (Photo, godfatherpolitics.com)
In October of 1991 what was, up to that time, one of the largest mass shootings in U.S. history took place at Luby's Cafeteria in Killeen Texas. Twenty-three people were killed. Suzanna Gratia Hupp saw both her parents murdered that day. I want to share her story and what she learned from that horrific event as the lessons directly relate to the threatening situation being forced on San Diegans by Sheriff Gore's dangerous CCW policy.
Dr. Hupp's full story can be found in her book titled "From Luby's to the Legislature". The book is heartbreaking and infuriating as well as inspirational and I highly recommend it to all gun owners and anyone else interested in preserving our second amendment freedoms. Suzanna Hupp survived this tragedy and eventually was elected to the Texas Legislature where she became a strong supporter of the second amendment.
Dr. Hupp and her parents were meeting friends for lunch at Luby's that sunny October afternoon. Her parents had recently celebrated their 47th wedding anniversary. As they were visiting, a man drove his truck through the front window of the restaurant. When the truck came to rest, the murderer got out, screaming obscenities, and began shooting. Thirteen minutes later the killer took his own life. Twenty-two people were dead. Another victim died in the hospital several days later.
In what Dr. Hupp describes as "the most stupid decision of her life" she decided to leave her handgun in the car that day. At the time Texas had no concealed carry laws and carrying a handgun could be a felony offense. Dr. Hupp, being a chiropractor, was fearful that being caught illegally carrying a handgun could cost her career. Please take about five minutes to watch her explanation of this decision in her riveting testimony before congress.
As the killer was shooting, Dr. Hupp and her parents were crouched on the floor behind an overturned table. The killer was about twelve feet away. Reaching for her purse she thought, "I have him". Twelve feet would have been an easy shot. Then she remembered her gun was not in her purse but outside in the car. At that point her father decided he needed to do something. He came out from behind the table and charged the shooter. He was instantly shot in the chest. Dr. Hupp saw a chance to escape and told her mother to follow as she ran out through a broken window. When she got outside she realized her mother hadn't followed. Instead her mother crawled to where her father was and cradled him in her arms. The killer put his gun to her mother's head and fired.
As October 16th was the 25th anniversary of this horrible event, the Killeen Daily Herald did a story on the shooting interviewing three survivors. You can read their detailed eyewitness account of the shooting here.
I share this story not to scare anyone but to point out some things of which we should be concerned. Realistically we live in a very safe country. Most of us will live our entire life without encountering a violent criminal. That being said, the reality is that people are attacked every day, sadly it's happening to someone in the county as you're reading this article. Mass shootings are also an unfortunate reality. Some of you may remember the San Ysidro McDonald's shooting of 1984 that cost 21 lives here in San Diego.
We all have a responsibility to protect our loved ones and ourselves. As Americans our Constitution gives those of us who so choose the ability to do just that. Unfortunately one man has taken that right away from San Diegans.
As law-abiding citizens, we have the right to carry a firearm for protection outside the home if we so choose. Those willing to accept the responsibility and develop the necessary skills should be free to make that choice assuming they meet the State's requirements.
Stand up and let Sheriff Gore know that his outdated policy of refusing to issue CCW permits to trained, qualified citizens endangers all San Diegans and is unacceptable. Urge him to join the 43 California Sheriffs who accept self-defense as good cause to issue CCW permits to qualified citizens. Urge him to join the law enforcement leaders in 43 other states who issue CCW permits to qualified citizens. Help bring about positive change for San Diegans.
Please get involved by joining San Diego County Gun Owners, the California Rifle and Pistol Association, and the National Rifle Association. Join the fight and help us restore and preserve our second amendment rights. Together we will win.
©2017 Joseph T Drammissi
Comments