Cowboy Guns Are Fun – Everyone (except a certain Hollywood actor) should own one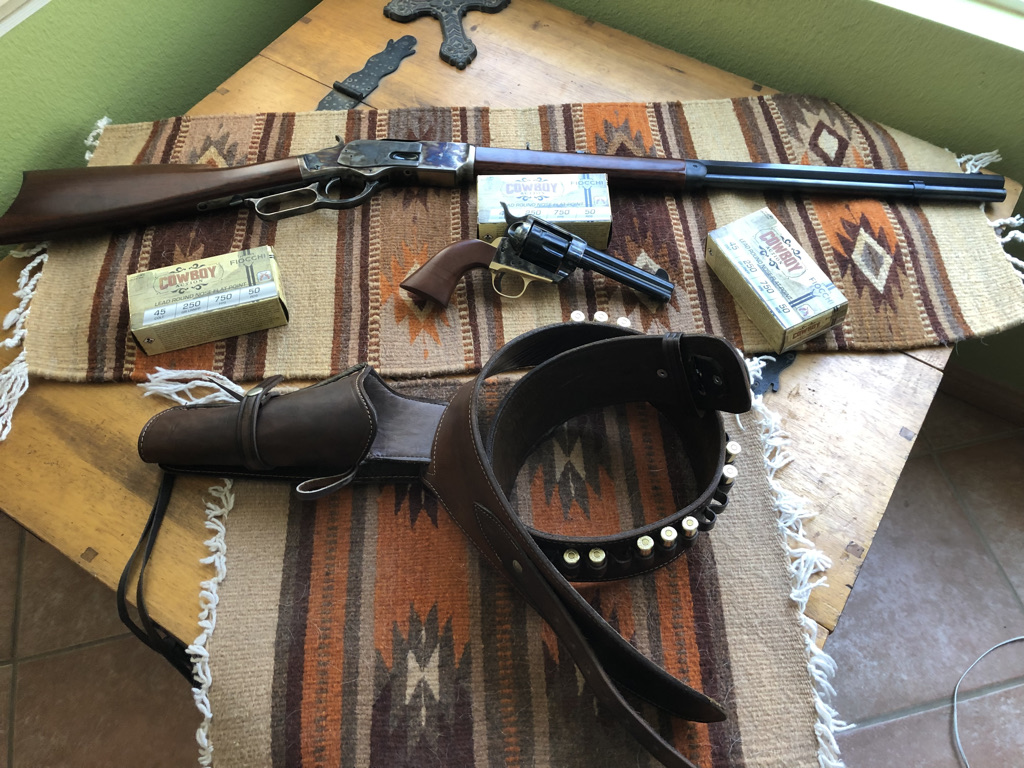 As a gun owner and fan of classic western cinema, I've always known that it was my destiny to eventually own some classic firearms of the old west. Living in California my options of coming across the real thing are somewhat limited, however high-quality replicas are a good place to start.
I began my journey with an 1873 Winchester lever gun replica from Uberti. With the octagonal barrel it's an accurate rendition of the real deal. It includes a lever safety that must be depressed to fire which was probably not part of the original 1873 design but otherwise it's a convincing replica.
The other non-traditional characteristic, in my case, is that I got it chambered in .357 Mag (my inexperience). It comes in 45 Colt which, sticking with tradition, I would choose today. The rifle is a joy to shoot in either .357 Mag or .38 Special and very accurate at 100 yards with the traditional buckhorn sights. As much as I enjoy this gun, my next foray into lever gun replicas will be chambered in 45 Colt and will sport the enlarged John Wayne loop on the lever.
Next stop was a handgun, a real six shooter. I had my eye on a Rooster Shooter, a replica, also made by Uberti, of one of John Wayne's favorite guns offered by Cimarron Firearms Company. John Wayne fans will recognize the handgun used by Cole Thornton in El Dorado and by Rooster Cogburn in True Grit.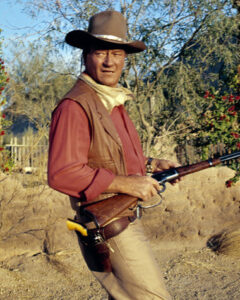 The gun is recognizable by what was supposed to be its yellowed ivory grips. The grip panels weren't actually ivory but were made of a synthetic material. Wayne had come across the grips in a shop in the southwest.
The Rooster Shooter was widely available for a reasonable price, but I hesitated. Then came COVID. Suddenly the Rooster Shooter was no longer available and still isn't. So, while waiting I went to plan-B which is working out really well.
Plan-B is the Pistolero, a single action army (SAA) gun made by F. LLI Pietta and offered by Cimarron. I got the Pistolero in 45LC, it's a beautiful piece and a pleasure to shoot.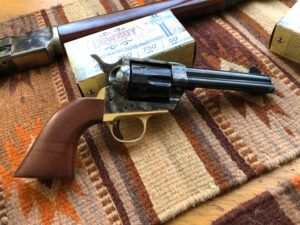 The Pistolero has a case-hardened frame with blued cylinder and barrel. The backstrap and trigger guard are brass, and the grip is smooth walnut. The Pistolero has notched rear and blade front sights. It's a beautiful gun.
As I said, the Pistolero is a pleasure to shoot. With the 45LC chambering you're definitely aware of each shot but it's not unpleasant. Sometimes with this style of revolver because of the height of the front sight the gun will tend to shoot low. To be honest I didn't notice that when I was shooting but I wasn't shooting from a bench either. Next time I'll try it from a bench and pay closer attention just to see.
Many anti-2A folks lack an understanding, either intentionally or otherwise, of the rewards of gun ownership. Obviously, there is the self-defense aspect of firearms but, as much as I train in defensive firearms use, most of my time is spent enjoying other areas of the hobby. I shoot trap and sporting clays with my shotguns. I compete in pistol matches with my Glock 34 most weekends. I reload the 9mm ammo that I shoot, something the engineer in me finds very relaxing. Finally, I truly enjoy the artistic and engineering qualities of my firearms as well as the history associated with many of them. I developed this appreciation later in life but intend to enjoy my firearms for a long time to come.
The right to self-defense is a basic human right. Gun ownership is an integral part of that right. If you want to keep your rights defend them by joining San Diego County Gun Owners (SDCGO) in San Diego, Orange County Gun Owners (OCGO) in Orange County, and Inland Empire Gun Owners (IEGO) in the Inland Empire. Support the cause by listening to Gun Owners Radio live on Sunday afternoon or on the internet at your leisure. Join the fight and help us restore and preserve our second amendment rights. Together we will win.
©2022 Joseph T Drammissi
This article and more of Joe's work covering the Second Amendment and other topics can be found on Substack at https://getagrip.substack.com
Comments