To Ride, Shoot Straight, and Speak the Truth – 100 Years of Colonel Jeff Cooper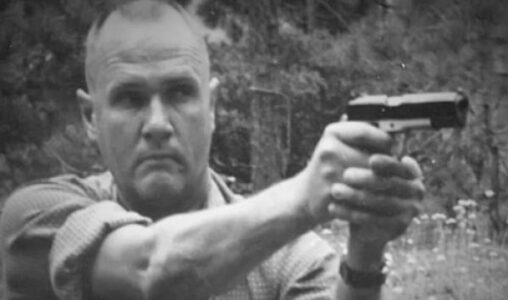 May is the Centennial of Col. Jeff Cooper. Jeff Cooper is truly one of the legends of the firearms community. For those not familiar with Col. Cooper and what he's done I offer this short article to acquaint you with the Colonel. I hope this inspires you to pursue additional information and learn more about this great man.
Jeff Cooper was many things. Born in Los Angeles in 1920, he was educated at Stanford University and the University of California. He was commissioned in the Marine Corps and served in World War II and in the Korean War.
Cooper was one of the originators of the sport of practical pistol competition and founded the International Practical Shooting Confederation (IPSC). Through his many years of experience in shooting he developed the Modern Technique of the Pistol. He spent over thirty years teaching his technique which is still the basis for LEO, military, and civilian handgun training throughout the world.
In 1977 Col. Cooper founded the American Pistol Institute later to become Gunsite Academy in Paulden, Arizona. Col. Cooper and Gunsite were the first to train civilians in defensive handgun use. Today, Gunsite is considered by many to be the premier firearms training school in America. A class at Gunsite should be on the bucket list of any serious gun owner.
I was fortunate to take a Gunsite pistol class last year. One of the traditions at Gunsite is to invite the students that graduate from the Handgun 250 class into the Cooper home for a tour. The tour is hosted by the Colonel's wife, Janelle Cooper. Mrs. Cooper also bakes brownies and serves coffee and lemonade for the students. At the time of my visit Mrs. Cooper was 99 years old and I would be hard pressed to think of a more fascinating person whom I've met. Mrs. Cooper passed several weeks after my visit but her children and the Gunsite staff plan to carry on the tradition.
It's difficult to paint a picture of this fascinating man in a short article so I'll rely on others for a little help. I had the pleasure of interviewing Ken Campbell, CEO of Gunsite Academy, on Gun Sports Radio last week. Ken worked for and was a family friend of the Coopers. He describes the Coopers and their home (known as the Sconce) far better than I could. You can listen to Ken's interview here.
Another friend and shooting buddy, Kevin Cox, recently wrote an article about Col. Cooper. Kevin had the opportunity to interview the Colonel years ago and wrote an article about the experience for the Centennial. Kevin's article was published in American Rifleman magazine and you can read it here.
Finally if I've successfully piqued your curiosity, I'd like to suggest a couple of the Colonel's books. Two that I've read are To Ride, Shoot Straight, and Speak the Truth and Principles of Personal Defense. The former will provide insight into the man's philosophy and life while the latter will teach you his seven principles of self-defense. Both are fascinating reading and I encourage you to take the plunge.
The right to self-defense is a basic human right. Gun ownership is an integral part of that right. If you want to keep your rights defend them by joining San Diego County Gun Owners (SDCGO) in San Diego, Orange County Gun Owners (OCGO) in Orange County, San Bernardino County Gun Owners (SBCGO) in San Bernardino County or Riverside County Gun Owners (RCGO) in Riverside. Support the cause by listening to Gun Sports Radio live on Sunday afternoon or on the internet at your leisure. Join the fight and help us restore and preserve our second amendment rights. Together we will win.
©2020 Joseph T Drammissi
Comments