Filling a Drawer Full of CCW Holsters – Part One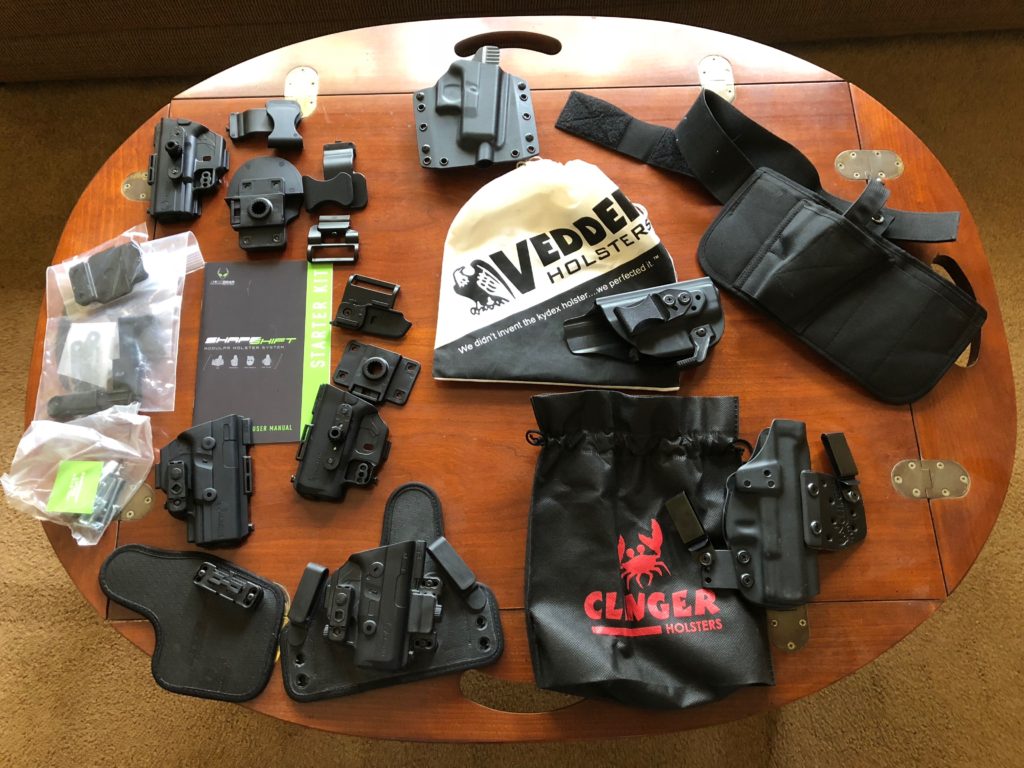 If you talk to people that carry consistently or read articles on the subject, one of the things common to all is the large collection of holsters people eventually develop. Doing my part as a member of that community, I've built a respectable collection of my own in a relatively short amount of time.
Being an advocate of sharing information, I thought I'd share what I've learned here. The following isn't intended to be a review of holsters, but rather a sharing of what I've learned as I embrace the carry lifestyle.
When I consider a holster, I'm concerned with three areas:
Safety– The holster must securely hold the gun in place and must completely cover the trigger. These are absolute requirements (for me).
Concealment– The holster needs to hold the gun in such a way as to avoid or minimize printing. Concealed means concealed. A law enforcement officer or a person who carries may be able to tell, but the average person should have no idea an individual is armed.
Comfort– If it's not comfortable, it won't be carried daily. It won't be perfect but generally speaking the holster should hardly be felt when worn.
We're very fortunate to be living in the "golden age" of concealed carry. All across America, with the exception of a handful of backward states, the number of concealed carry permit holders is growing at a rapid rate. That rate of growth has been increasing every year with over 17 million permit holders currently in America.
Because of this popularity, the number of high quality holsters available is very large and growing everyday. The following are my observations on the holsters I've tried so far:
I want to reiterate that choosing a holster is a very personal thing. What works perfectly for one person is terrible for another. Body type, carry position, weight, and personal preferences all impact your choice.
All of the above holsters seemed well made and functioned as advertised. Any one of them, I'm sure, would be perfect for any number of people. The point is to try out a bunch, find your perfect go-to holster, and carry everyday.
If you want to keep your newly regained CCW rights along with the rest of your 2A rights, defend them by joining San Diego County Gun Owners (SDCGO), the California Rifle and Pistol Association (CRPA), and the National Rifle Association (NRA). Join the fight and help us restore and preserve our second amendment rights. Together we will win.
©2018 Joseph T Drammissi
Comments