A Wolf in Sheep's Clothing – Lessons from the San Diego County Sheriff Race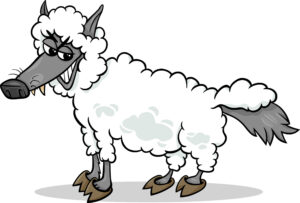 Voters often vote in local races with little or no information regarding the candidates for whom they are voting. Think about it. Have you ever voted for a judge, school board member, or city council member having almost no information about that person? How much did you know about the last water board member you voted for?
So, why is this important? Who cares who serves on the water board or local school board? You should care. The wrong people elected to local office can cause huge problems for residents. Ask the people in Loudoun County Virginia (or many parents across the nation) about the harm a bad school board can do.
Many of the bad politicians we see at the state and federal level started locally where they would have been much easier to defeat. Think about your least favorite governor, senator, or representative. Chances are good that person started locally and could have had their political career nipped in the bud had local voters been paying attention.
Often people will vote for local candidates based on party affiliation or endorsements. This approach can produce disastrous results for local residents. The race for Sheriff in San Diego County provides a good example of how this approach might end badly.
Currently there are four candidates running for Sheriff in San Diego County. One of those candidates is John Hemmerling, currently the Assistant City Attorney for the City of San Diego. Hemmerling will be running as the Republican candidate for Sheriff in the upcoming election.
Conservatives in general and gun owners in particular may be tempted to vote for Hemmerling based on general information. Hemmerling is the Republican candidate and will be endorsed by the local Republican party. He claims to be a 30-year Marine Corps veteran as well as having been a law enforcement officer. He claims to be a Second Amendment supporter.
Voters who take the time to dig a little deeper will discover things that might give them pause regarding this candidate. Consider the following:
Hemmerling is running as a Republican but has only been associated with the party for about two months. He claims to have been a lifelong Republican only switching to Independent for a brief period and then coming back to the party as part of his political strategy. Party affiliation is important to many voters.
There is a huge difference between a 30-year active-duty Marine Corps veteran and a veteran with seven years active and 22+ years in the reserve. Hemmering is the latter. This could be important to some voters.
Hemmerling is a strong proponent of Gun Violence Restraining Orders (GVRO) and is considered a subject matter expert and leading advocate for GVROs throughout California. He has been instrumental in helping other jurisdictions establish GVRO programs. Many responsible gun owners consider GVROs to be a gross violation of a number of constitutionally protected rights. Claims of being a strong Second Amendment supporter are greatly overshadowed by his aggressive stance on GVROs.
This article is not intended as an attack on a specific candidate. The race for San Diego County Sheriff is used only to illustrate the importance of voters becoming knowledgeable regarding candidates for local office.
Candidates for state or federal office receive much wider media coverage hence information on them is more readily available, not so for local candidates. Voters will need to dig deeper to learn about local candidates, but the extra effort is worthwhile. Electing the wrong people locally can have unpleasant consequences as those of us in San Diego are now learning.
So, exercise your right to vote and do so intelligently. Learn about the candidates and make the best choice as you may be living with the results for some time. Take your responsibilities seriously and avoid electing a wolf in sheep's clothing.
The right to self-defense is a basic human right. Gun ownership is an integral part of that right. If you want to keep your rights defend them by joining San Diego County Gun Owners (SDCGO) in San Diego, Orange County Gun Owners (OCGO) in Orange County, and Inland Empire Gun Owners (IEGO) in the Inland Empire. Support the cause by listening to Gun Owners Radio live on Sunday afternoon or on the internet at your leisure. Join the fight and help us restore and preserve our second amendment rights. Together we will win.
©2022 Joseph T Drammissi
This article and more of Joe's work covering the Second Amendment and other topics can be found on Substack at https://getagrip.substack.com
Comments