A Girl and A Gun – A Women's Shooting Club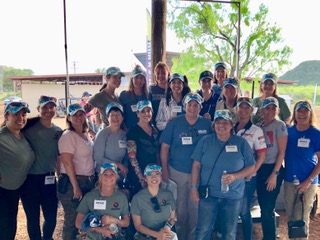 This week we have something for the women in our firearms community. The following is an interview with my friend Judi Wells of the San Diego chapter of A Girl & A Gun.
What is A Girl & A Gun?
A Girl & A Gun Women's Shooting League (AGAG) is a shooting club established by women shooters for women shooters. AGAG events are intended to be fun, social gatherings where women can come together for support, encouragement, ask questions in a safe and nonjudgmental environment, improve on their marksmanship, and bond together in the shooting community.
When do you meet?
We meet at various ranges, depending on our event. Our indoor range host is Discount Gun Mart, on Morena Blvd in San Diego. We have three meetings a month here. On the second Tuesday of the month, we have Trigger Time from 11:00 am to 1:00 pm.  We also have a meeting at night, Girls' Night Out- Tuesday. This meeting is mandatory for all first time guests. We focus on the fundamentals at this meeting… you know, brilliance in the basics. Our other meeting is the 4th Thursday of the month from 6:00 pm to 8:00 pm. We move a little faster on Thursdays… the girls work with holsters, timers and the drills are more structured.
What is the cost?
It costs $50.00 a year to join AGAG. There are over 100 membership perks! Discounts on gun accessories, hotels, rental cars, so many… you have to go onto the website at agirlandagun.org to see the list. Our chapter charges $2.00 a meeting if you are an AGAG member, and $10.00 if you are not. Tuesday nights have range fees. We charge for special events and special training, but that is priced differently each time.
What kind of events do you have?
Our local chapter hosts three meetings a month. At these meetings, we have 45 minutes of education and then an hour on the range. We host other events that include rifle, pistol and shotgun at other ranges around the area. We run a holster series, teach RSO classes, and host nationally recognized trainers. Our national organization has a conference every April; there are 400 women from around the country that gather for top notch training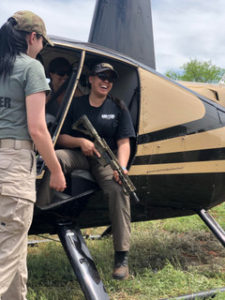 in all disciplines…shotgun, rifle, pistol, sporting clays, defensive handgun, three-gun, you name it, we have it. We even have the option to shoot from a helicopter. It's so much fun, and yes, I've gone heligunning!
Do I need to have experience with a firearm?
No, not at all. That is the beauty of AGAG. We will help you from your first shots all the way to our competition team, if that is what you want. We encourage first time shooters to take a few private lessons to be more comfortable with a firearm, and we have a mandatory first meeting at "Girls' Night Out~ Brilliance in the Basics" for everyone's safety. AGAG is a very supportive place to learn to shoot… the camaraderie speaks for itself. Our tagline is #itsmorethanshooting, and it truly is more than shooting. We have women from all walks of life, all backgrounds and all levels of experience joining us. It's fabulous.
How can I be on your competition team?
This team is about camaraderie, because well, #itsmorethanshooting, so we have a couple of team parameters:
You have attended three or more SD AGAG meetings to be on our team
You will attend at least 6 SD AGAG meetings a year
You will shoot at 2 out of 4 competitions a year
You have participated in our holster class or been confirmed holster safe by the facilitator of the chapter
Your membership in AGAG is current
Can my husband or boyfriend come with me?
As much as we love us a good man, that's a hard no. This is a women's club and our meetings are time to enjoy each other's company and let our hair down… you know what I mean?
Where can I find more information?
There are several ways to get more info …Go to our national website at https://www.agirlangdagun.org. Our San Diego Chapter has a Facebook page, look for A Girl and A Gun San Diego. We have an Instagram: agagsandiego. You can also call Judi at 619.629.3344 or email her at agirlandagunsd@gmail.com.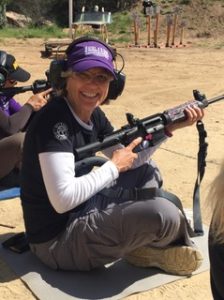 The shooting sports can be great fun especially when they're being enjoyed with great people. AGAG is a wonderful example. There is also the more serious aspect regarding the role of firearms in self-defense. The more often you shoot and train, the more familiar you'll be with your firearm and the more likely you'll be able to do what's necessary should you ever find yourself in a life threatening situation.
The right to self-defense is a basic human right. Gun ownership is an integral part of that right. If you want to keep your rights defend them by joining San Diego County Gun Owners (SDCGO), the California Rifle and Pistol Association (CRPA), and the National Rifle Association (NRA). Join the fight and help us restore and preserve our second amendment rights. Together we will win.
©2019 Joseph T Drammissi
Comments