#WhatTheGun
San Diego County Firearm Training Resources
What is #WhatTheGun?
WhatTheGun is your one-stop resource page for professional instructors in San Diego who teach classes specifically designed for new gun owners.  Here, you can find locations, course descriptions, cost, and contact information for introductory firearms classes.
Let's talk basics!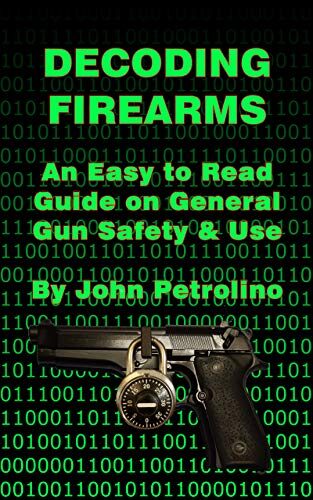 SDCGO recommends that beginners start with ordering the book
Decoding Firearms
by John Petrolino.
Decoding Firearms is a great educational tool and fantastic reference.  While you are waiting for it to arrive, check out our FAQs.  We put together some basic information that is not a substitute for a professional class by a certified instructor, but it will get you started.
1) Treat all guns as if they are loaded at all times (even if you know they are not loaded).
2) Keep your finger off the trigger until you are ready to shoot.
3) Never point any gun at anything that you are not willing to destroy.
4) Be aware of your target, its surroundings, and what is beyond.
Unless you have a Concealed Carry Weapon (CCW) permit, transporting a firearm in public should be done with a closed, locked, firearms case. The firearm should be completely unloaded.
Pro Tip: get a hard-sided case that you can lock, put your unloaded firearm in the case, and lock the case. That way you can carry the locked case with the unloaded firearm inside, to your car, in your far, and from your car once you arrive.
Here is an example of a hard-sided, lockable case:
If you have children, you MUST store your firearms locked or in a safe. Children cannot have access to firearms, according to California law. Additionally, some cities (like the city of San Diego) have laws that require you store your firearm locked or locked up any time the firearm is not in your direct control. Here is an example of a safe that will secure your firearm, but still give you access to it in case of an emergency:
All ownership transfers in California must be done through a Federal Firearms License (FFL) professional. Among other things and for a fee, the FFL will:
Register your firearm with the State
Ensure you have passed the state mandated test for your California Firearm Safety Certificate
Hold the firearm for the California mandated 10-day wait period
Complete a background check on the buyer to make sure they are not legally prohibited from owning a firearm.
To buy or sell a firearm from someone who is looking to sell you their firearms, meet at a gun shop and let the shop process the transfer.
Generally, if you want to carry a loaded firearm on you for protection, you must have a Concealed Carry Weapon (CCW) permit. CCWs are issued by the sheriff and there is a bit of a process, but SDCGO has made the process easy to follow. Check out our resources page for details: www.SDCGO.org/CCW